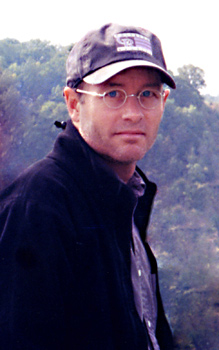 The natural world has always fascinated me — as an artist, amateur naturalist and outdoorsman — but I'm particularly intrigued by the many ways nature and men collide. As a child I found Colorado's abandoned and dilapidated gold mines a far more intriguing subject for my sketchbook than the once pristine hillsides where they stood. Still, I'm sure none of my high school friends or family suspected that when I left Colorado to attend Pratt Institute in New York City on an art scholarship, that I would stay there after graduation. Years later, I'm still here. Man's collision with nature is nowhere more apparent than in Manhattan's dug-up streets, rotting piers, endless new construction. Every block is a rollercoaster tableau of decay and rebirth in a stream of bobbing bodies and faces. I never tire of the show. Early some mornings just before dawn, I launch my kayak from a sand spit in the East River and ride the ebb tide toward the harbor, drifting past and through and underneath Brooklyn's rusting jungle of abandoned industrial waterfront, my painter's eyes overwhelmed by the unfolding display of colors and shapes.
After receiving a BFA in Painting from Pratt, I began my art career as a storyboard sketch artist freelancing for advertising agencies in Manhattan. The ability to draw the figure from memory is a necessity for this job so I continued weekly life drawing sessions. As with so many pursuits, facility eventually leads to passion; what began as a job requirement became a lifelong interest in painting the human form. Storyboard assignments often required the completion of 20 or 30 color renderings in a single night — a brutal work load that lead me, through desperation and lack of sleep, to a style of drawing through which I attempted to lay down the most information in the simplest, quickest way possible. I found myself drawing almost without thinking, putting my faith in my wrist. The resulting graphic shorthand, born of a desire for speed, turned out to be a first-rate way of working. I now approach all drawing and painting with this direct style, embracing the unconscious accidents that occur in the process, making discoveries and changes until the moment I put down my pencil or brush. If I'm not at least a little surprised by the final result, I've been too cautious. This approach is particularly well suited to oil painting. To hone those skills I studied part time at The New York Academy of Art under Andrew Conklin and the renowned portraitist, Nelson Shanks.
Since my days as a storyboard artist, I've created thousands of paintings and illustrations in watercolor, gouache, oil, and, more recently, digital media, for publishing and advertising. I've illustrated dozens of children's books for Simon & Schuster, Harcourt Brace, Oxford Press and Prentice-Hall and created editorial and commercial illustrations for national magazines and newspapers including Field & Stream, Sail, Salt Water Sportsman, Good Housekeeping, Scientific American, Money, Information Week, The Wall Street Journal and The New York Times. A partial list of other clients includes: American Express, AT&T, Bristol-Myers, British Airways, Chase, Citibank, Casio, CBS, Colgate-Palmolive, Columbia House, Disney, Doubleday, Estee Lauder, FedEx, General Media, General Motors, HBO, IBM, Merck, Pepsi, Reader's Digest, Sony Music, Sprint, Verizon.